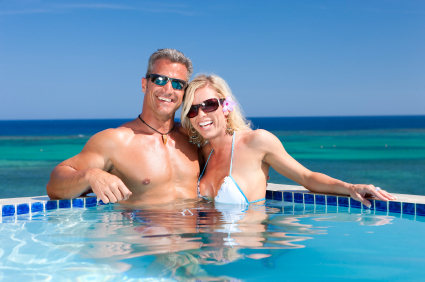 If you find your sex life is in a rut, I have the best suggestion to make it more fun. take a sex break! I don;t mean to stop having sex, but i men to get away And put yourself in an entirely mew environment and let the passion flow. Being abstinent for a few days leading up to the vacation couldn't hurt wither, it will build up the anticipation of your sex romp week or weekend and make it feel like the first time is coming again. So this is what you should do:

Book a trip to go away. Make it as long and elaborate as you can. If all you can do is a weekend at a hotel on your locate town, so be it. If you can go away for a week or a weekend at an all inclusive resort, that is even better. Of course in life you do what you can. Assuming you can get away and do an all inclusive for a week, this is what you should do. Try telling erotic stories to each other, it's a great way to get aroused!

All inclusive resort somewhere in Mexico is perfect because you can drink your faces off. the booze might be a little watered down but with all the sugar rush you'll be experiencing, you'll be really hiper. With the booze in your system, you'll be horny. This is pretty obvious that it will set the mood for active sex since you'll have energy to burn!

Play some sex game. pretend that you don't know each other and you're eyeing each other from across the pool. Use pick up lines, get the butterflies like it's the first time and flirt with each other. wait for him to invite you back to his room. Pretend you don't know each other and it's your first time. Do it in the shower. Make it really kinky.

Another thing to try is to bring sex toys or handcuffs. use them on each other and move your sex everywhere – not just in the bed. have sex on the balcony, that's always fun. Try to sneak a quickie in the bushes away from plain sight but still in public. It;s your chance to do sex positions and sex acts that you never would at home because of you get caught, no big deal because these people don't know who you are anyway.

The simple setting is enough o make it hot and erotic, The hot sun, cool pool, mini bikinis, fancy drinks and the whole calming setting is perfect for love. People have vacation flings because paradise is so ideal for romance so even if you;re not the romantic type, I wouldn't be surprised if you felt the little arrow if cupid gracing your weekend. You'll be in the mood.

Have sex often and whoever you feel like it. be spontaneous and fun and you'll feel better about your relationship and when you get back to home when it's all over, you'll have s swimming pool, full of memories forever and it might inspire you to be more kinky at home. If not, then you can take another vacation at your earliest opportunity and do it all over again!