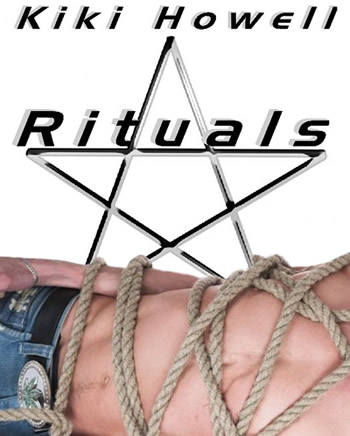 Kiki how is an author of magical erotic romances. She likes to let her wild imagination run free taking the hot and sexy and mixing it with such things as magical spells and vampires!

In her novella, Rituals, she plays off of a Wiccan ceremony to put her hero and heroine in the mind to begin experimenting with bondage…

After a Wiccan ritual opens her eyes to her old friend, Maddie's first week together with Ryan, goes by in a blur of knots and ropes. Creative in their endeavors, they tie each other to everything from the coffee table to the kitchen cabinets. Neither the sash of her silk robe nor the curly ribbon on a present is left unused as a device of sensual torture. Together, they find the freedom they seek in bondage. But, when Maddie's controlling ex-husband returns hell-bent on taking her back, will Ryan and Maddie be bound by the past or become tied to each other?

What they are saying about Rituals…

"The subject matter is racy (the sex is wild!) and the romance is wonderful. The plot builds nicely to a tense climax and the resolution is very satisfying. I highly recommend Rituals to those who like romantic fiction with spice!" ~Dawn D. at Manic Readers

"This quick read novella gives readers a delightful look at light bondage. Both Maddie and Ryan are great characters having a great time exploring the new world that has opened up to them. Expect the bedroom scenes to get scorching hot." Romance Book Scene – Rated 4 out of 5 Hearts!

"The story in itself is wonderful.  I loved the sensuality, passion and heat.  I loved the interplay between Maddie and Ryan. Their history seemed to make the heat even steamier. In conclusion, would I read this author again?  Hell, yes.  I enjoyed the sex play and passion.  Would I buy her books?  Hell, yes. Hotness–5 out of 5."~Review by Doni at Romance in the Backseat

Available now from eXcessica in eBook and also in The Healing Spell
 
Warnings: This title contains Graphic Language, Bondage, Sex Toys and Anal Play
ADULT EXCERPT FROM RITUALS:
"Are you quite agreeable to beginning, Maddie?" Ryan asked in the formal pedagogy of days gone by. She knew he had done so for her benefit with his coy smile and the come-hither voice he adopted when he wanted to lighten the mood.While she was grateful for his attempts, he had not succeeded in easing her nerves. As she looked to the silver cord hanging in loops over his outstretched hand, she did her best to smile reassuringly back at him to return the favor. Behind the facade, her thoughts flowed like turbulent seas as she tried to maneuver through the waves of her doubts.

Still, she was more than ready. A restless sort of eager, she earnestly desired the proposed outcome of this new experience. It was as if she had been preparing herself for this moment for the last few years. To prove it, she nodded her head at him and dropped the white silk cape he had given her.

As he looked down over her revealed figure, she disregarded the fact that this was the first time he had seen her naked. She had chosen to participate in tonight's rite, thought it out and drafted herself to take the final step she needed to freedom. Ignoring the way her body trembled within his field of vision, she averted her gaze to the breathtaking yards of material embroidered with delicate flowers lying in a shimmering puddle at her feet. It reflected the candles all around them making her feel for a moment she was a goddess on display at the altar.

"Kneel before me," he requested. Yet, within his sovereign voice, she detected a slight tremor. Maddie was obedient, lowering herself with as much grace as she was capable of. Upon kneeling, she had caught a glimpse of how his jeans curved over a quite impressive outline, and she couldn't get past the bulging part of his anatomy presently at her eye level. Although she was trying to focus in on his words, as she understood the vital importance of comprehending his directions, she was distracted even after he tugged closed his own robe to cover himself. Pondering for just a moment if her present state of undress had something to do with the extent of his forming erection, she reveled in the sweetness of the stroke to her ego. She had needed the boost. Looking up at Ryan as he spoke about relationships and transformation specifically in the vain of what would transpire tonight, hope filled her. She desired the creation of momentum and healing this rite promised.