Here's some blow job tips for women. men love oral sex, it's to no surprise. The feel of wet sucking is compared to the pleasure of sexual intercourse. The feel is quite similar. In fact, after taking a poll of my many male friends, I have reached the result that many men prefer the feel of oral sex. Why is that better then sex? The following are some tips on how to get your man to think that oral sex is better then sex.
I have to backtrack here a second because is you're the type of gal that hates giving blow jobs, then you'll want to follow tips on how to give a worse blow job so that your man will hate them and want to have sex only. Well that's not very fair is it? A relationship is about compromise, even a bed buddy only relationship is about compromise so if it's a lopsided affair, then he'll stray, or at least find another bed buddy. Even if you hate giving oral sex, you'll have to suck it up and do it eventually sometimes (no pun intended!)
He needs his pleasure, it's not fair for you to get pleasure but for him to receive nothing. That's why men cheat. When you hear men say "I do things with my mistress that my wife would never do" Do you know who's fault that is? It's the women's fault. It's up to them to give their man pleasure and he'll never have to stray. Think about it this way, if he gives you lots of pleasure, you won't stray, right? Well again I say that a relationship is a two way street. Now with that said, here is my blow job tips, and after reading the above statement you'll want o heed this advice:
1.) Go deep
Deep throating is the best thrill of blow jobs. This is a very important tip. This is the reason that men love blow jobs. At the back of the throat, it gets really tight, really fast and it's very warm, very wet and very soft. All the ingredients men need in the perfect pleasure for their penis. It has it add. Shove his member back there and keep it there as long as you can. The gag reflex will no doubt come into effect, but then all you need to do is heed the second tip and purchase some: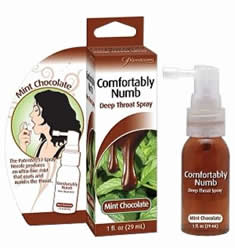 2.) Throat Numbing Spray
This is a safe to use numbing spray is exactly what you need to make it more comfortable when you deep throat him. It's completely safe to use. The main ingredient is benzocaine which is the same thing that's in Ora-gel and the same thing that dentists use to swab your gum line before putting the needle in for freezing. That's all the convincing you need. It's super safe and super effective. You spray it on the very back of your throat and then let it sit for a minute or so before giving oral sex. There are a few things you need to do to make it effective. Don't let your spit build you back there or it will wash away. Also don't swallow and don't give oral sex right away or you will numb his penis and there goes all the pleasure!
3.) Wrap your teeth with your lips.
This is not the most attractive scene but when you wrap your teeth with your lips, it prevents any discomfort and you teeth are the biggest factor is discomfort in giving blow jobs. This gives a stronger feel sort if stroking but without any pain. You'll look like a denture-less granny so if I may advise that you do this only when you are looking down because it's not a pretty sight. This brings me to my next point:
4.) Look up at him
It's what porn stars do so it's a given that you want to so this too. It gives him a feeling of superiority when you look up at him with lust as you suck on his penis. It makes him feel tall stroking and like a man and well, what man doesn't love that? Give him sexy come-hither eyes and gaze at him, lick, spit, twist and twirl his cock in your with when you are in this gaze. Don't go overboard and look creepy but pretend like you're sucking a really good lollipop or watch some blow job porn and do what they do.
These 4 points are kept to giving the perfect blow job. Maybe there are other pointers I have overlooked but in my opinion and after my blow job poll, these are the things that matter the most. Watch the teeth, deep throat and look at him. Point number 3 is for you to make it better for everyone.