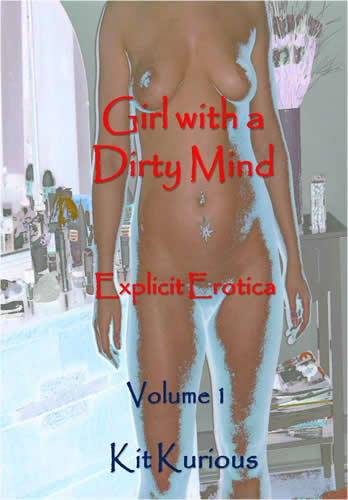 Kit Kurious is a vivacious girl with a sexually charged appetite and a desire to share the love. As an author, a fashionista, a sex educator and a philosopher (check out her Fast, Frantic and Intense Guide To Sex), Kit has arrived on the online erotic scene with a bang through her site, www.girlwithadirtymind.com  
Her blog is a titillating tsunami of erotic entertainment, information, tips and tricks and instructionals, running the full gamut of sexual subjects and turn ons. Need an example? When I visited www.girlwithadirtymind.com her most recent blog entries were discussing the joys of fetishes, how to experience stronger orgasms, the ins and outs of masturbation, tips on becoming a better lover and how to build a better body through the use of specific sexual positions. How's that for a range of subjects? And that's barely the tip of Kit's iceberg, this girl's dirty mind is turbo charged and ensures that there is always something new and stimulating to enjoy at her site. 
Kit's passionate pen (or kinky keyboard) extends beyond erotic blogging however; she has three volumes of Explicit Erotica available as eBooks and paperbacks for sale available on Amazon and other retail outlets. That's a lot of sexy reading from someone who knows how to turn up the heat. Check out her site, www.girlwithadirtymind.com for exclusive merchandise, horny eBooks and paperbacks, and advice on how to heat up your sex life.