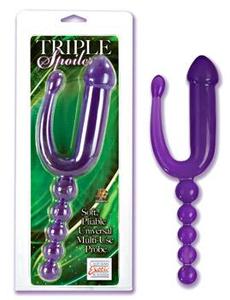 I've been lacking on my sex toy review posts lately. Mainly because I've slowed on my sex toy purchases but I found this hot new thang at a local shop and I juts had to have it! It looks kinda like one of those older sex toys but the material is not sticky jelly at all, it's smooth jelly like although the packaging says TPR, it more stiff then silicone. Whatever it is, it's a good build.
The 3 ends are noticeable different from each other and I tried all of them in different orifices and I must say that it's very erotic. The thicker end is smooth with a little mushroom tip It's shorter so when you insert it all the way, the curve caresses your clit. or you can flip it the other way and enjoy some double penetration. The smaller end is sturdy enough to be able to be inserted, it won't flop away from you easily. You can grasp the middle, where the 3 pieces meet, it is easy to hold on to.
It could be a little wider but I won't complain much because it gives more of a seductive feel, like teasing since it doesn't fill me up all the way so when I crave a bigger filling feel, I can move up to another toy. And that's just what we did. My man and I really enjoyed this one for foreplay.
The anal beaded end is really fun, I like to obvious texture of the bumpy surface. If you're extra kinky like me, you'll appreciate the feel. It was like 30 dollars which is a little steep for a sex toy that dies not even vibrate but it's great for some variety.